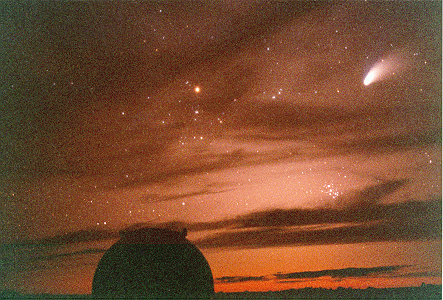 The Immortal Questions
Just how big is the Universe?
"Really, really, really big" -Steve Lasher
How will the world survive without this vitally important web page?
Yes, it is true. After May 21, this web page will be no more. Having completed my undergraduate career as well as the job I had here at the Theory Center, I must give up this important role of asking the immortal questions. But, do not worry for some day I will be back, somewhere. Till then, I bid you farewell.
Send answers you wish posted here to: hds1@cornell.edu
---
This is also the home page of Howard Daniel Sanders
I am currently enrolled as a Senior at Cornell University in the school of Engineering Physics and am currently employed by Steve Lantz at the Cornell Theory Center.
I am also a T.A. for A&EP 110: Introduction to Lasers.

My work at the Theory Center is in the field of computational physics. The linked picture to the left goes to my pages on the work I do there.
My interest in computational physics started from my SERS (Science and Engineering Research Semester) at Oak Ridge National Laboratory. I spent my first junior semester as well as last summer there. While there, I worked on simulating a gamma-ray detector.
Although many people like to put their entire life open to the public, I am not one of them. However, I enjoy talking with others who share my interests. For example, I am a rated ace in the strategic space combat game Star Fleet Battles (link below). I also play many other strategic games including Empire in Arms, Civilization, and Titan. I enjoy travelling and have visited all 48 continental states (and some foriegn contries). I enjoy Star Trek, Babylon 5, Simpsons and X-Files (Also E Z Streets, but I don't know if it will be back). I also enjoy writing science fiction short stories (don't look for them, I'll never be published). And on occasion, I have been caught playing collectable card games.
---
What would a web page be without . . .
Lurker's guide to Babylon 5: Warning, you will stumble into spoilers.
Task Force Games: Makers of that tome of a game, Star Fleet Battles. On a related note, I just ran a tournament at UBCon which unfortunetly did not get 16 people. So Peter Bakija did not get a rated ace card for his victory with the Kzinti.
Astronomy Picture of the day: Way cool pics like the one above.
Cornell's Strategic Simulation Society: Gaming at Cornell.

The Dilbert Zone.
---
More interesting than mine, try these links to some of my friends:
James Hamblin: Including the infamous Caribou Home Page.
Steve Lasher's SLasher Central.
---
Last modified 5/8/97